Avoiding Interactions with Allergy Medications
Allergies are the sixth leading cause of chronic illness in the United States.
1
The mainstays of allergy treatment include oral and intranasal antihistamines, decongestants, intranasal corticosteroids (INCs), and leukotriene receptor antagonists.
INCs are considered the single most effective class of medications for treating allergic rhinitis (AR) (
Table 1
2,3
). Because many patients use OTC medications for seasonal allergies,
4
however, they may select oral drugs because they are unfamiliar with—and perhaps a little afraid of—INCs. Health care providers are largely responsible for recommending treatment and preventing interactions. In doing so, they can help patients select safe, effective options while advising them on when to step up to prescription drug therapy.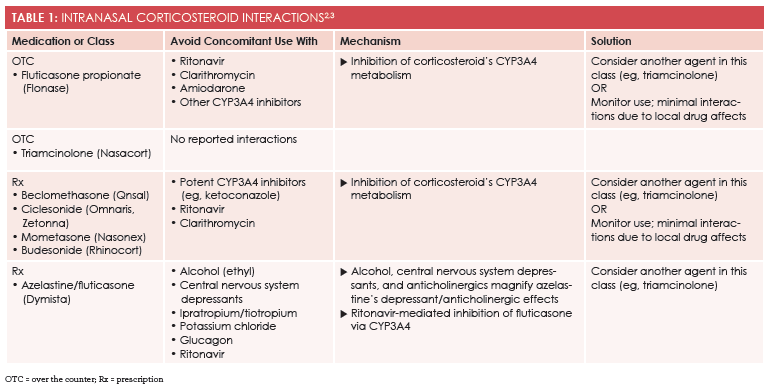 Populations at Risk for Interactions
Monitoring for comorbidities and patient characteristics that elevate the risk for interactions is clever. Two populations that may have more issues with allergy medications than others are the elderly and individuals with hypertension.
The elderly are at elevated risk for interactions because most take multiple medications. This group is also physiologically more sensitive to certain adverse effects (AEs) (eg, drowsiness). The 2015 Updated Beers Criteria for Potentially Inappropriate Medication Use in Older Adults outlines pertinent interactions and potential AEs in the elderly population and serves as a valuable resource for all health care providers.
5
Despite their improved AE profile, second-generation antihistamines/intranasal antihistamines, especially cetirizine, may still cause sedation. Elderly patients should be advised to avoid activities that require mental alertness (eg, driving) until they know how their allergy medications could affect them. In addition, elderly men with benign prostatic hyperplasia should avoid pseudoephedrine-containing products and first-generation antihistamines, as these products can further hinder the patient's ability to urinate.
6
In terms of patients with hypertension, the decongestants pseudoephedrine and phenylephrine can elevate blood pressure for the duration of use, so those with well-controlled blood pressure may take them with the prescribing provider's approval.
7
Current Issue
The Educated Patient