Why Retail Clinics Are Partnering with Health Systems
Partnerships between retail clinics and health systems focus on convenience for the patient in an effort to drive compliance and improve outcomes. The retail clinic­­–health system relationship fosters continuity of care, interdisciplinary collaboration, cost control, and accessibility to suitable support, including after-hours usability.
Solving major population health challenges such as emergency care misappropriations serves as an incentive for both parties to pool resources and maximize care delivery. Although retail clinics are not a solitary solution to problems concerning health care, they prospectively expand the accessibility footprint. Pairing complementary health systems with a unified, patient-centered purpose fulfills an approach that is operationally practical and fiscally sound.
The Patient Reach
Retail clinics are positioned attractively as both a health care entry portal and destination. They can be seen as control towers redirecting planes in disruptive flight patterns. To harmonize air space, a handful of aircraft is redirected to a larger airport that is able to accommodate complex jumbo jets and helicopters, whereas a subsection of airliners is managed effectively at the residing control tower's airport. Each airport has distinct advantages as well as overlap in shared function, and each airport shares utility as a destination.
Traditional primary care offices and hospital-based care centers demonstrate a proximity barrier that is based on the patient seeking care. This secluded platform naturally provokes a reactionary versus preemptive health care model. Convenient care clinics disturb the health care ecosystem with a presence in communities through their distinctive placement. The reach of the retail clinic captures a large, potentially untapped and invisible population subset. Instead of the patient seeking health care, retail clinics are positioned to pursue the community.
Through this tactical approach, the opportunity for earlier intervention creates an economic win in communities with established partnerships by preventing and curbing disease, as well as preserving quality of life. For a retail clinic to reach its greatest outcome potential, a strong health system relationship is necessary to categorize its specialty role and welcome a space for shared facilitating.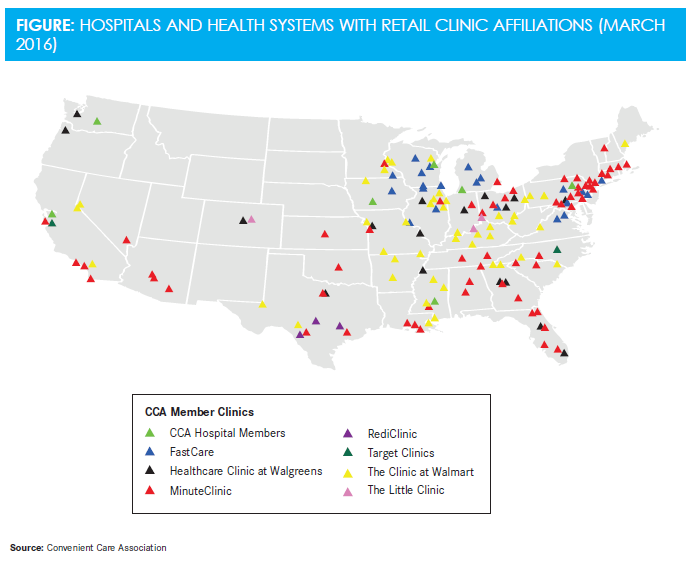 The Referral Relationship
Preventing fragmented care is a stronghold in retail health organizations' quest for a reliable partnership. Affiliations with health systems abate the continuity of care argument in retail health by joining forces in a campaign to provide a quality care experience, positive outcomes in population health, and fiscal management—truly addressing the "triple aim" objective.
1
Through mature collaborative partnerships, the image of retail health evolves from a fulfillment center for acute episodic care to synergistic collaboration that maximizes the abilities of every clinician at each respective destination.
Partnerships between retail clinics and health systems strengthen core mission and business strategy bi-directionally. Evolving relationships allow convenient care centers to expand their scope of service through reliable referral systems, thereby decreasing the burdens of misuse on the health system. For instance, retail clinics are already systematized for after-hours care and weekend availability that may assist in the relief of an estimated 14% to 27% of emergency department visits appropriate for alternate sites, with up to $4.4 billion in cost savings annually.
2
When convenient care clinics encounter acutely ill, complex patients, affiliations with health systems enable direct referral for specialized care to manage these patients aggressively. It is the hope and objective of the affiliation that when the patient is stabilized and the need for specialty management diminishes, he or she will return to the retail clinic for maintenance care and acknowledge the retail health care experience as an approachable space for family and community members.
Retail clinic–health system affiliations generate a paradigm shift that creates an outlet for the rising chronic care demands, provides economic relief, and channels the appropriate level of care to the appropriate level of expertise in a risk stratification model. Affiliation­-referral connections grant transparency and easy follow-through for patients. From the acute care of the complex patient to chronic care management for patients with hypertension and diabetes, partnerships facilitate logical movement of a patient from one venue to another when testing, imaging, mental health support, or other specialty services are required. Added efficiency is demonstrated when technologic integration links up to support fluid movement of documentation across sites.
3
Current Issue
The Educated Patient